Dear Parents,
My name is Carole Collignon and I am an autonomous welcoming lady  since 2012.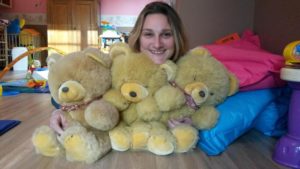 I first worked for four years in a crèche in Uccle which is approved by 'Kind en Gezin'. I can give you numerous references of satisfaction from many parents who brought their children at  the crèche 'Les Oursons'.
At the end of 2016, I moved to Overijse (near La Hulpe, Lasne, Hoeilaart, Rosière, Genval, Wavre, Jezus-Eik and not far from La Hulpe station and the E411 motorway).
The crèche 'Les Oursons' is located in a green, quiet area with a parking and garden
In order to offer balanced and healthy meals to the children, I decided to use bio-food products.
Having an university degree in social sciences and psychology, I put my skills at the service of children and their parents. I also put into practice my experience being the mother of two little girls.
My mother tongues are French and Dutch, I also speak a little English.
I invite you to discover my site and the documents it contains in order to become better acquainted with the crèche 'Les Oursons' and its functioning.